Medwyn's Recording Studio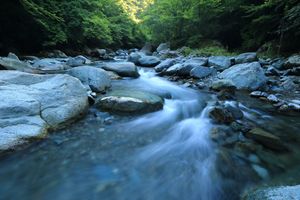 Medwyn's studio is a converted out-building. It has its own electric feed with a mains switch and trip switch so that it is isolated from any ony domestic device that may cause interference. There are no windows to create distraction or noise, but there is a powerful air fan built into a wall and a powerful portable heater that is also a fan, air conditioner and dehumidifier.
There are cupboards for storage on one wall, and a long built in worktop for the studio set up.

The room is home to several RODE NT-1 microphones and stands;  a range of Guitars electric and Spanish, a Mandolin and misc percussion.
Soft coloured lights fill the studio to create an evening, theatrical atmosphere.

The studio recording is comprised of a powerful computer with 16 gig RAM, and 3 internal hard drives which are divided into Window 7, Audio only and software only. There is no internet connected to isolate the studio from updates, and a build up of contamination. 
The walls have been thickened with sound proofing and to treat the acoustic space. A thick carpet also deadens the floor.
Two monitors fill the worktop, the larger of the two is perched on a higher shelf and is the prime monitor connected by HDMI used for displaying the main software pages like arranging, recording, editing. The second smaller monitor is used to display a digital mixer. Medwyn no longer uses an analog mixer of any kind which does save space and the need for many cables.
A PC keyboard and mouse are connected to one of two USB hubs. 

A mother keyboard, the only musical keyboard used is also connected by USB to this hub. The keyboard produces no sound on its own, its features and use are only to capture and record performance into midi on the computer.

Several external hard drives back up all music and software.

Two large Mackie HR824 studio monitors on stands act as the source of all sound.

A Focusrite 2i2 is the interface for microphones, headphones, and direct connection for guitars.
Cubase Artist 8 is the main studio software.

There are so many virtual instruments installed that they are too numerous to list, however Omnisphere 2 is perhaps the largest and most used on a daily basis whereas other software is more specialised for one task.